FREE SHIPPING on all domestic orders
At 13 years old I discovered jewelry making. Beginning as a self-taught artist, I worked mainly in wire and quickly fell in love with the process behind beautiful pieces of jewelry. More so, I fell in love with the way jewelry made people feel. I realized early on that jewelry had the power to not only complete an outfit but give the wearer a sense of confidence and power. This idea is what has motivated me throughout the Homegrown journey, there is no better pursuit than to create pieces that make everyone feel confident and powerful. 
In 2013, at 15 years old I officially started my business, which meant I had business cards with my name and the word "founder" below. After years of being self-taught, I took classes with local jewelers, Teresa and Silvio Mazzarese, where I learned more advanced techniques and worked with higher quality materials during my senior year of high school. As my work evolved, I realized that jewelry could become my career path. By this time I had been running Homegrown for 2 years and I knew I wanted to continue creating something of my own. I attended Saint Michael's 
College majoring in Business Administration with a concentration in Entrepreneurship and a minor in Economics, in order to create a foundation for my business. 
For most, college is a time of self-discovery, and this was no different for me. However, as I was growing so was Homegrown. My Freshman year I hosted a jewelry shopping party in my dorm, just in time for the holidays. Although my friends were insistent that it would be successful, I was terrified to put myself and my work out to a brand new community. My friends must have seen something I hadn't at the time because our tiny dorm room was packed to max capacity for the entire two hours of my show. Sitting on the floor, surrounded by my insanely supportive friends, and shaking from the post-show excitement, I realized that this community was going to take me and HGJ to brand new places. 
In the Fall of 2016 I applied and received an Emerging Artist grant through the Frog Hollow Vermont Craft Gallery and had the opportunity to display my work in their Church Street storefront. Throughout college I participated in innumerable craft shows, artists markets, and pop-up shows. A Homegrown sale was a staple in our dining hall before the holidays or when a new collection launched.
I competed in the Saint Michael's College Business Society's pitch competition and won, pitching fro a closet at a pop-up show in Brooklyn, NY. The same friends who were sitting on my dorm floor in 2016 continued to support and motivate me, always seeing my potential before I even did. This community is truly the reason Homegrown grew, close friends, classmates, and strangers on campus all supported this crazy dream.
In May 2020 I graduated from Saint Michael's and found myself faced with a global pandemic on top of typical post-grad nerves. Being forced to stay home had its silver lining, I dove head first into being a full time business owner.
I applied for the Her Campus x Aussie Hair Care Business Plan Competition and won. I had close to 6 months of mentorship with two incredible mentors, I completed online business courses through MIT and Babson, and pitched my business to a panel of Her Campus and Proctor & Gamble executives. Reflecting on this competition, the emotions were so similar to those I felt in college. There was a community behind me, that supported and believed in me.
As Homegrown continues to grow and evolve one thing stays as our North Star, j
ewelry has the power to not only complete an outfit but give the wearer a sense of confidence and power. In every twist and turn of our journey we have sought to give you the jewelry that makes you light up when you wear it. Everyone has a girl boss inside of them, it just takes the right jewelry to bring it out. 
Continue reading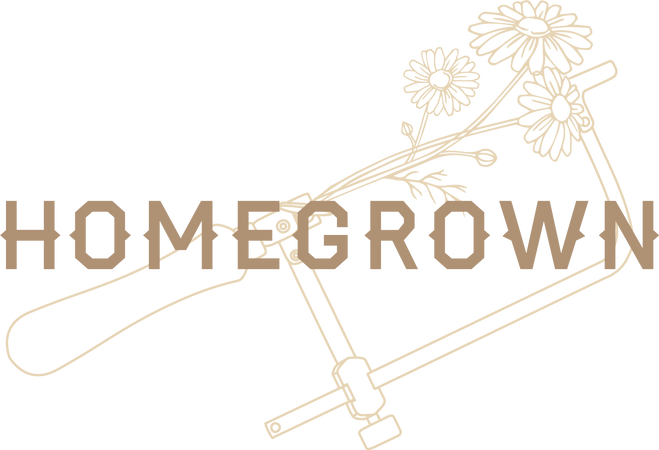 Follow us